Corporate Profile

Rich Heritage and A Major Player in Singapore
With an established track record of over 27 years in the industry, we have been able to grow in scale and become one of the major ready-to-eat and ready-to-cook meat manufacturers in Singapore today. We believe we are one of the largest meat manufacturing companies in Singapore with the capability to manage and process as many as four product categories – chilled, frozen, dried and shelf-stable ready-to-eat and ready-to-cook meat products – within one single facility.
Multi-Brand, Multi-Product Portfolio
We are brand builders. Our flagship heritage brand "Golden Bridge", created by our late founder, Mr. Ong Tuan Seng, embodies our belief that we should serve as a connection between consumers' preferences and our quality food products. By placing strong emphasis on the branding and positioning of our Group's flagship brands, "Golden Bridge" and "Kelly's" have become established household names within the ready-to-eat and ready-to-cook meat products market in Singapore and Malaysia. Targeting the growing halal food market, we established a prominent retail brand, "El-Dina", and a food service brand, "Kizmiq". We have more than 1,100 SKUs across 13 main product types under our six house brands, targeting both halal and non-halal consumer segments. We also produce seasonal food products (such as roast meats, hams and pork knuckles) during festive periods such as Chinese New Year and Christmas.
Strong Focus on Innovation
Building the momentum of our success is our spirit of innovation which has been part of our culture since 1993. From challenging ourselves to improve our recipes to exploring technological innovations to enhance efficiency and quality in our manufacturing processes, we continue to push new boundaries as food innovators. Supported by our in-house research and development team, we pride ourselves in our commitment to continuously reinvent ourselves and create better products to respond swiftly and timely to market trends and support the diverse tastes of our customers.
Technology Driven Manufacturing Capabilities
The Group owns and operates three modern food manufacturing facilities, two in Singapore and one in Bulan Island, Indonesia. In Singapore, our integrated food manufacturing facilities span across around 9,131 sq m. Working in collaboration with Hogsworld Pte Ltd (a subsidiary of the KMP group), our third food manufacturing facility located in Bulan Island, Indonesia is currently focused on the production of Chinese sausages. Recognising the importance of technology in increasing productivity and efficiency, we believe we were among the first in our industry in Singapore to adopt certain modules of an ERP system in 2003. Since then, we have made several upgrades and improvements leading eventually to the implementation today of an ERP system, which connects every step of the manufacturing process together – from research and development, order taking, product development, sourcing, food processing, packaging to delivery, thereby enabling us to track and monitor every aspect of our process and products with speed, accuracy and ease.
Quality Assurance
Knowing how important safety and quality standards are to consumers, especially in the food business, we are dedicated to ensuring our culture embodies these key beliefs in our processes. Our plants, processes, and food products are routinely checked for quality and safety, both internally and through third-party surveillance audits conducted by certification companies such as SGS United Kingdom Ltd. We have also been achieving Grade 'A' status for excellence in food hygiene and food safety standards from the Singapore Food Agency and the AVA since 2010 for Golden Bridge and 2011 for Ellaziq Singapore. In addition, our two production facilities in Singapore are the only two out of the three meat processing plants in Singapore which has obtained approval for the export of meat products from Singapore to the European Union.
Established Distribution Channels
We have built an established sales and distribution network over the past few decades and our brands have been widely marketed and sold in major supermarkets, convenience stores, provision shops, hotels and restaurants in Singapore and Malaysia. Through our export business and wholesalers, our food products have also been marketed and sold in more than 25 countries, including Brunei, Hong Kong, Myanmar, India and the European Union. Besides receiving the FSSC 22000 Food Safety System Certification, both our production facilities in Singapore have also achieved a Grade 'A' status for excellence in food hygiene and food safety standards from the Singapore Food Agency. No matter where our customers come from, they are assured of safe and high-quality food products made by us, which facilitate fulfilment of import standards and compliance with international market regulations and certifications.
Our Values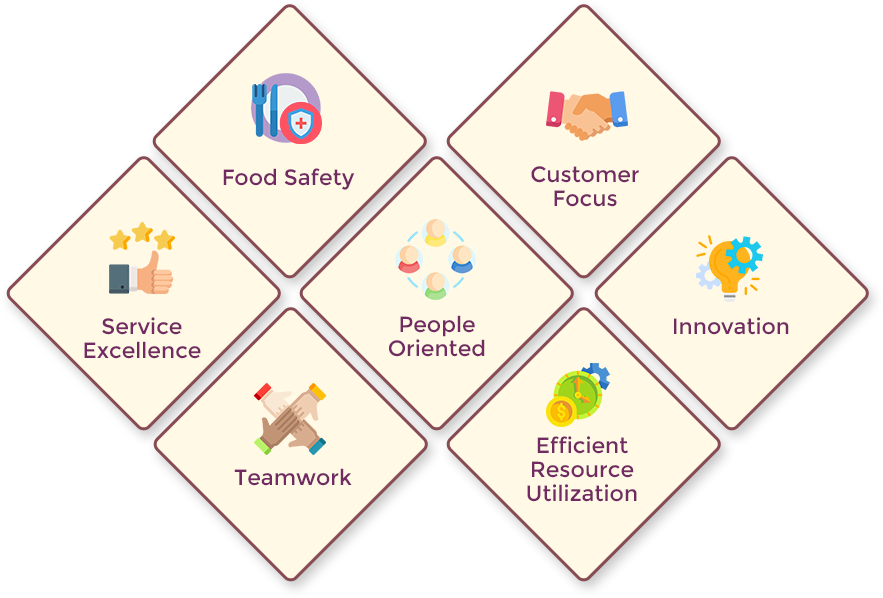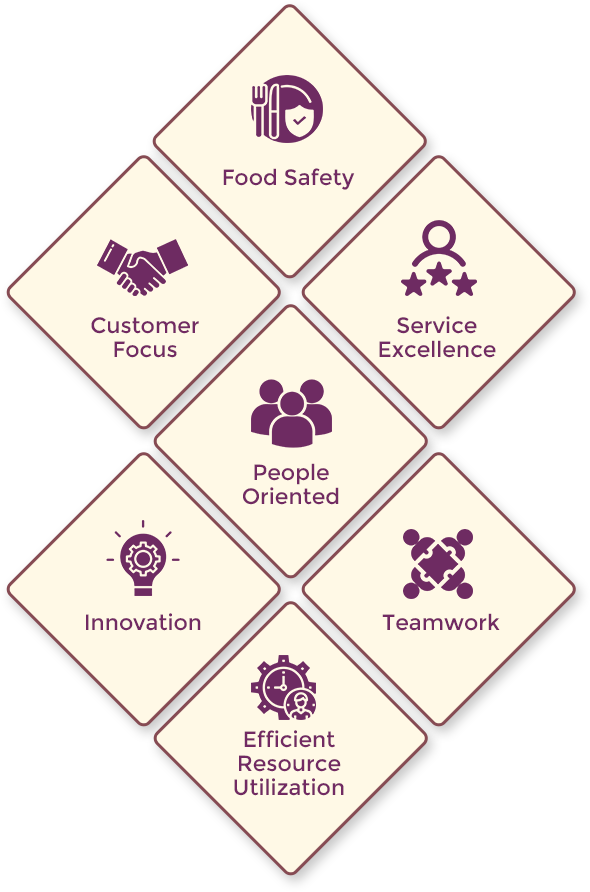 Our Subsidiaries
100%
Golden Bridge Foods Manufacturing Pte Ltd
August 1993
Manufacturing
(Non-Halal)
Singapore
100%

Ellaziq Pte Ltd


May 2009
Manufacturing
(Halal)
Singapore
100%

GB Global (Malaysia) Sdn Bhd
May 2017
Trading
Kuala Lumpur, Malaysia
100%

Ellaziq (Malaysia)
Sdn Bhd
February 2018
Manufacturing
(Halal)
Kuala Lumpur, Malaysia
50%
PT Delta Foods
October 2019
Manufacturing
(Non-Halal)
Bulan, Indonesia
100%

GB Global Philippines Corporation
April 2021
Trading
Manila, Philippines
100%

OTS International Pte Ltd
January 2022
Trading
Singapore